Car Dealership PPC – How we got 752 Leads in 90 days!
Learn how we generated  752 leads in just 90 days!
In this case study, we will teach you how to turn a failing Google Ad campaign into a profitable success.
Here's how we did it:
Background
We were aiming to generate car sale leads so that the sales staff would be able to contact candidates while looking through the online catalogue.
Our client paid about $70,000 in paid advertising in just over six years before they decided to utilize our PPC Management Service.
Our client also advised us that they burned several thousand with other agencies that did not even do a lot for their business.
Now we will take a look at the step-by-step process of how we flipped this campaign around!
Uncovering A Big Tracking Issue
You need to have a reliable tracker to determine if your campaign is functioning how it should be. 
One of the issues we found while reviewing the records was that the tracking was not properly configured.
We noticed that the tracking was indicating tens and thousands of leads, which sounded odd.
We audited and discovered that this account counted a car sale lead whenever someone visits a generic page on their website – not a thank you or confirmation page.
As a result, the campaign produced thousands of "leads" that were not even real! 
We removed all irrelevant conversion activities that skewed the statistics and began again with new conversion tracking. 
Our "goal" was now placed on the thank you page after a lead fills out a form, which would tell us that we gathered the lead's information. 
Starting Fresh With New Search Campaigns
We collaborate closely with our clients during our research process to learn more about their business and what primary factors they want to target. 
Once we decide on a theme, we'll conduct competitive research to determine what perspectives are utilized by rival companies and other important factors. 
For this situation, our client wanted to reach a broad audience seeking used cars within their vicinity.
Because the data from the last campaign was skewed, we began again with two utterly new car dealership campaigns. 
One campaign was centered on "Used Cars," while the other campaign was branded. 
We created high-converting ad texts and matched them with smaller ad groups. To get the maximum CTRs, we always use message match!
We then utilized location targeting to restrict where the adverts are being shown to only their immediate vicinity. 
Setting Up High Converting Landing Pages
In the previous account, it was directing traffic to their homepage.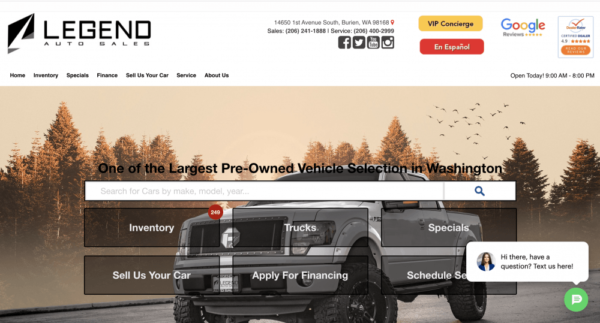 But because homepages aren't normally built for conversions, this isn't usually a good idea for lead generation efforts. 
Ultimately, we ought to direct users to extremely targeted automotive landing pages that precisely fit what the audience is looking for and are developed to convert highly. 
For this case, we created a landing page to focus more on used vehicles. We noticed that rival companies were directing traffic to inventory pages because customers wanted to peruse the inventory; therefore, we made this our offer. 
This landing page gathers the lead's information and gives the opportunity to "browse" the inventory. 
As a result, we obtain the information ahead of time so the client's sales team may follow up. 
The Results
We switched on the traffic after fixing proper tracking, establishing new campaigns, writing new ad texts, and generating unique landing pages…
… and the leads started flowing in!
In just 90 days, we had already produced 700+ leads!
Form Fills: 

528

Phone Calls:

224
Total Leads:752
This does not include over 1,033 site visits and 84 instruction actions. 
We intend to extend to more vehicle-type-specific landing pages (used trucks, used SUVs, etc.) to refine our current campaign. 
Conclusion
You can take an unsuccessful campaign and turn it around with the right plan, just as we did for this car dealer. 
Explore our PPC management program if you need help turning around your campaigns, gaining more leads, or obtaining greater ROI from your advertising!
Start Growing your Business Today!
Sign up for free and get access to all of our tools and services.